Loaded Billy Highlights

World premiere 'Boys Run Wild' debut single and video on The RockPit Australia's home of hard rock, Metal & Blues.
ReverbNation Metal Charts: live recording of 'Boys Run Wild' was #1 for 10 weeks.
#10 on the Top 20 + 1 Three D Radio 93.7fm for the first 3 weeks of 2023. They received a pre-release copy of the album through a friend and there was no promotion from us.
Headlined 'South Coast Raw' concert for their re-opening 2023.
Headlined 'Thunder Club' inaugural gig 2023.
Headlined 'Tribe FM' fundraiser concert.First original band to ever perform at annual Old Noarlunga Christmas Concert.
Headlined 'Homebrew Concert' at HQ complex.
Support 'Radiators' at Adelaide Casino.
2nd headline act for 'Southern Fire Relief' outdoor concert. 2
nd headline act for 'Monsters of Rock' concert at Noarlunga Arts Centre.
Individual Band Members Biography
WILLI GUTWEIN - Drummer, Songwriter, Sound Engineer, Music Producer. Willi started his first band at the age of 15, an original blues/rock outfit. Next was a band called 'Scum' an original punk-rock band who enjoyed success in the Adelaide live scene. Willi got involved in drag racing cars and at the age of 23 went into business selling and racing Honda motorcycles (that's a whole other story). The hunger for music and playing drums was ever present and he decided to gain more expertise in double kick drum playing by enlisting the help of some of Adelaide's top professional drummers. DAWN PATROL was Willi's first major band who had success in the 80's with a couple of local releases. With a major line-up change they renamed themselves as SOLID FRONT, again having a couple of local releases then later moving to Sydney to become THE EARTHLINGS. After coming 2nd in the KARDOMAH CAFÉ national band comp they received constant video exposure on ABC's Rage with their song 'Where's Your ID' plus airplay on many community radio stations. They were also making inroads on American College radio & Canadian radio circuits. THE EARTHLINGS ran its course and broke up due to individual members wanting to pursue different styles of music. Willi & Graham Rowlson (long time bass player) decided to stay together and TAURUS RUN was born. TAURUS RUN released a critically acclaimed CD titled "Come Taste the Beast". The CD was released Nationally plus in America & Europe. The CD received rave reviews in the States and Europe with excellent airplay on 12 FM radio stations in Europe. Constant touring took its toll with the singer deciding to leave the band for health reasons. Willi moved into live sound engineering. The next 10 years saw Willi build his hugely successful production company 'Band-Tech Productions'. Willi became a highly sought after FOH sound engineer for some of the biggest acts in the country and continued to tour nationally. Life on the road was taking its toll and there was a young son to raise: Willi sold the business and moved back to his hometown Adelaide. Two things happened: Willi built Loudtoys Studio Complex, a professional 2 roomed facility and started 'Loaded Billy' with his long-time friend Trevor Moyle who had also returned to Adelaide from Canada. Willi has appeared in numerous Drummer's magazines in Australia plus music publications and fanzines worldwide. Either performed alongside or mixed the following artists: 7 years running 'The Deadly's Music Awards', Ross Wilson, Daddy Cool, Mondo Rock, Noiseworks, Archie Roach, Kevin Borich, Screaming Jets, Paul Kelly, Herman's Hermits Aus. Tours, Tina Arena Band, Eskimo Joe, Hard Rock Café national Band Comp, Cotton-Keyes-Morris, Debra Byrne, Fauves, Melvins (USA), Swanee, James Reyne, Dave Gleeson, Party Boys, Spy V Spy, Chain, Choirboys, Dynamic Hypnotics, Swanee, Judge Mercy, Horsehead, Screaming Tribesmen and more.
James Chamings (Jimi) - Lead Vocals / Acoustic Guitar Jimi's introduction to playing music was an old Martin acoustic guitar with 2 broken strings. Jimi was 8 years old and taught himself to play Peter Gun and Smoke on the Water. Jim comes from a long heritage of musicians with his father and grandfather both highly successful musicians performing in country music bands around Australia and working in television. Jim's father gave him an electric guitar when he was in year 7 school which led to his first rock band experience. At the same time Jim started singing in the school choir and was accepted into the State Choral Society which introduced him to classical music where they performed regularly at the Festival Theatre and Carols by Candlelight. Jim's first original band was 'Hypnotic' who were influenced by Nirvana and Peral Jam. Hypnotic ran its course with Jim playing guitar and singing in various bands and duo's eventually securing the guitar gig in The 'Fyoogs' who released 2 EP's. After the band folded Jim started working with John Chamings of Fahrenheit 451 & Taxi. Jim then decided to start up his own solo show and now highly successful duo 'Rokoustika', (still performing today 2023). Jim was introduced to Willi through a mutual friend as he wanted to record some of his original songs. During the recording and mixing of Jim's songs it was realized how good his vocals and acoustic guitar playing were, plus he was writing in a similar vein to Loaded Billy. Fate would have it that Loaded Billy were about to record their debut album and intended on using guest vocalist as they were currently without a singer. During pre-production recording it was apparent Jim had the vocal and acoustic guitar talent along with a passion for the songs so he was offered the front man spot. Jim had seen Loaded Billy perform live and accepted immediately. Career Highlights: Supported – Ian Moss, The Radiators (with Loaded Billy), Angry Anderson, Grant Walmsley (Screaming Jets), Jim Hilburn (Angels), Mark Evans (AC DC), Peter Bawden (Kate Cebrano), Slim (Redback) Newton (Country Legend), Rocky Page (country Music Hall of Fame).
Ucan Ashtar – Guitarist Extraordinaire Ucan Ashtar started playing guitar at a young age after his grandfather brought home an acoustic guitar that he found at the local rubbish tip where he worked in Tasmania. The guitar was slightly damaged but playable and Ucan started to learn AC DC songs from watching them on TV music shows. Ucan discovered he could easily learn songs by ear and had a skill for emulating what other guitarists were playing. During his teen years and early adulthood, he developed a passion for speed metal however enjoyed most genres of rock music. Ucan left Tasmania and embarked on a long road trip up the eastern side of Australia eventually landing in Cairns. During this time, he played in many bands of differing styles, never settling on any particular cover band or style as he wanted to remain a diverse player and continue his learning experiences. Whilst in Cairns he was offered a guitar gig in an Adelaide band which appealed to him musically plus he wanted to move on again. The move was to take a few weeks and upon his arrival in Adelaide he was told the band had split up. Not perturbed he managed to find a guitar gig almost straight away with a working covers band. Ucan met Willi and the boys from Loaded Billy at a gig when Ucan's band was a support act. Ucan discovered that Willi worked as a mix engineer / producer out of Loudtoys Studio. Ucan had a large number of originals written and wanted to record some of these. A working friendship was formed. At the same time founding member and guitarist for Loaded Billy, Trevor Moyle was starting to spend time in Canada for longer periods which made going on the road difficult for the band, so it was suggested Ucan fill in for Trevor when he was away. Ucan had the skills and passion to play the songs and was given the blessing from Trevor. During the Covid period (2021/2022) Trevor decided to move permanently to Canada after the completion of the 11-track album. Trevor is still a part of Loaded Billy and continues to write with drummer Willi Gutwein and returns to Adelaide for visits to work on new songs. Ucan is now a full member of Loaded Billy.
Gary Standley - (Serious Bass Guitars – Backing Vocals) Gary started playing music in high school playing the trumpet in the brass band. After leaving high school and beginning his trade apprenticeship he took up drums and bass guitar. Being heavily influenced by 'Cream'- 'Budgie'- 'Deep Purple' – 'Black Sabbath' & 'Creedence Clearwater Revival' Gary began playing in various covers bands, 60/40 cabaret style bands and exploring original bands. Gary was friends with guitarist Trevor Moyle (founding member Loaded Billy) who had teamed up with drummer Willi Gutwein (founding member Loaded Billy) to form legendary Adelaide band 'SCUM', an original punk-rock/blues rock. Gary was asked to be the bass guitarist. The band built a strong live following and received airplay on Triple M (which is today Three D Radio) for their 'Jamming in the factory' cassette. Scum eventually imploded with Trevor forming a new band 'Renegade' playing bass guitar and Gary playing drums. After a couple of line-up changes and Trevor going back to lead guitar, and Gary still on drums new all original band 'Metal Workers' was formed and became part of the renowned Adelaide S.W.A.B rock circuit in the early / mid 80's supporting the major metal bands. Metal Workers disbanded due to Trevor Moyle moving to Canada. Over the following years Gary continued to play in various bands: he went back to playing trumpet in a brass band and playing either bass or drums in various cover bands and drums in a country music band. Gary saw a newspaper article with pictures of Willi and Trevor's band 'Loaded Billy' playing in his local area and went along to catch up with his old friends. Over the years they had lost contact with each other. The friendship was immediately reignited and upon hearing Gary was playing drums in a country music band and trumpet in a community brass band he was asked to come to a rehearsal and bring his bass guitar as the current bass player was leaving the band. After a couple of rehearsals it became apparent very quickly that there was a strong energy and rapport between everyone so Gary was asked to join Loaded Billy. The 3 are back together again!
Cindy Brown – Backing Vocalist Cindy started her professional career at the age of 18 singing in country bands in the Yorke Peninsula region performing in pubs and music festivals. Cindy moved to Adelaide for work and started to raise a family. After a few years of not performing she decided to enter a Karaoke competition which she won and this was the motivation for her to start performing again. Cindy started singing lead vocals as a guest performer in many of Adelaide's cover bands finally securing the vocal spot for an established working cover band 'Rokhouse'. Cindy has been fronting Rokhouse for nearly 10 years now. Due to Cindy's versatile range and powerhouse vocal she is constantly asked to perform guest spots with many of Adelaide's top cover / tribute bands such as 'Satisfaction – The Rolling Stones tribute', Kicked – INXS tribute show', 'The Incredibles Band- Cover band', 'East – Cold Chisel tribute Show', 'Eleven – Adelaide cover band', 'More Pink – Pink tribute show', 'ROKOUSTIKA- duo/trio covers'. Willi knew Cindy as she is the cousin of Jimi 'James' Chamings (vocalist for Loaded Billy) and had seen her perform so he asked her if she would provide some backing vocals for the Loaded Billy album. This was an experiment which proved to be highly successful. Cindy sang on 4 tracks from the album however once she started to rehearse with the band for some live shows it was evident she should sing more and now performs the entire Loaded Billy set list and has become a full member of the band. Cindy's current projects (2023): The Australian Alice Cooper Show – Backing Vocalist X-Ray Ted - Aussie/British covers band – Lead Vocalist Heavy Load – Contemporary covers band – Lead Vocalist Incognito - Duo covers band – shared Lead vocals Previous Backing vocals gigs: American Fools - John Mellancamp Tribute show 2019 - 2021. Once in a Lifetime – Talking Heads tribute show 2021 – 2022. ·
More Useless Information
Loaded Billy's History The Beginnings Loaded Billy is a bit of a Blues Brother's story. Willi Gutwein (drummer & songwriter) had moved back to his hometown of Adelaide after 20 years based in Sydney as a full time musician and sound engineer. With numerous releases and constant touring with his bands 'The Earthlings' & later 'Taurus Run' plus doing FOH sound engineering for some of the biggest acts in the country it was time for a break. The break was not going to last. Long time friend and guitarist Trevor Moyle who had lived in Canada for 18 years had also moved back to Adelaide and began pestering Willi to have a jam which went on to be 'let's put the band back together' – Loaded Billy was conceived. It will take another 10 years to get to where Loaded Billy are today with a debut 11 track album and 2 singles and 2 video's up for release.
Putting Loaded Billy together
The creative energy between Willi and Trevor was still strong however they seemed to have fallen back into time by playing songs from all those years ago. They decided it best to learn some covers first and concentrated on Jimi Hendrix, Pink Floyd, Budgie, Ozzy Osbourne. Originals were soon to follow. They needed a singer and luck would have it that John McTague was recommended by a friend. He was a perfect fit, had a soaring vocal range and played acoustic guitar. It was also discovered later that he was a lyricist. Bass player needed next: Enter Scott Berrigen who was looking for a new project to join. Loaded Band is a band! The band started gigging frequently over the next 2 years developing a large fan base. The band had also written a number of originals which were played alongside the covers. Bass player Scott Berrigen decides to leave the band as he wanted to pursue his passion for punk/indie music. He was replaced by Ross Mcgarvey who was only in the band for 6 months having to leave for personal reasons.
Fate enters
Gary Standley, bass player, drummer and trumpet player happened to see a band photo and editorial piece in the local paper for an upcoming Loaded Billy gig which was to be the final show with current bass player Ross Mcgarvey. Noticing Willi and Trevor in the photo he came to the gig to catch up as he had lost contact with both of them over the years. At the gig Gary was asked what he was doing musically. He said he was playing drums in a country and western band and trumpet in a community brass band. Trevor told him the bass player was leaving the band so he should come to a practice and bring his bass guitar ….. the rest is history as he is still Loaded Billy's bass player.
Interesting Fact
Willi Gutwein, Trevor Moyle and Gary Standley were founding members of early 80's band 'Scum' an original punk rock / blues rock band. The band enjoyed success on the local live scene along with strong airplay on then Triple M (which is today Three D Radio)from their 'Jamming in the Factory' cassette. (cassette -yes it was the 80's) Many years later music and friendship has brought them back together in Loaded Billy.
The start of the disappearing vocalists
Original vocalist John McTague leaves the band to move back to Scotland. John had contributed lyrics to many of Loaded Billy's originals however always just wanted to be in a fun band, nothing too committed or serious. Not wanting to hold the band back leaving was the best option. Jason Gibbons replaced John and was in the band for 12 months before moving back to his hometown of Melbourne. Next was Geoff Charleson who lasted around 12 months before moving back to his native New Zealand. After Geoff the band trialled a very capable singer in Matt (Wolf Savage) Haines however after a few months of rehearsal it was decided he wasn't fitting into Loaded Billy's style so the band went into a hiatus. Not content to be sitting around and not playing the band decided to put together a side project 'Stonecrow' performing songs by Budgie, Ozzy Osbourne and Whitesnake. They enlisted the vocal talents of Greg Blackwell. Stonecrow was hugely successful around Adelaide and included originals by Loaded Billy as they were demanded by their ever growing legion of fans. Stonecrow performed live for 3 years. With more and more originals being written it was time to get Loaded Billy back on the road. Greg was offered the vocalist spot however declined stating he did not want to commit to the rigours of an original band. The next vocalist was Rino Crescitelli. (number 6!) A gifted singer coming from a theatrical background he performed with the band for 18 months. However it was not working out once they started the recording process. It was a mutual and friendly agreement to not continue with Rino. Struggling to find a vocalist and realising they had more singers than Spinal Tap had drummers the band decided to focus on recording their album and would use guest session singers. During pre-production of the 'Legend' album fate would introduce Jimi 'James' Chamings to Willi Gutwein. James recorded some of his own songs at Loudtoys Studio's with Willi engineering and mixing. Willi was impressed with his vocal range, acoustic guitar playing and song writing abilities. He played the tracks to the band suggesting James contribute vocals to the album. During recording it became evident that James was totally suited to Loaded Billy and he was offered the front man spot. James accepted straight away (having seen Loaded Billy as a live act) although he did express his concerns of the legend of the disappearing vocalist! He's the lucky seventh! The 'Legend' album was completed during the covid lockdowns and recorded entirely at Loudtoys Studio in Adelaide's south. Produced by drummer Willi Gutwein, he brought in Cindy Brown one of Adelaide's most respected female rock vocalist to provide backing vocals on 4 tracks. This was an experiment as the band had never used backing vocals in the past. The experiment proved to be highly successful. The intention was to have Cindy perform live for the 4 tracks however it was evident she could sing more so Willi kept adding songs! Cindy Brown is now a member of Loaded Billy and sings on the entire set list. Loaded Billy is complete!
Band Stage Plan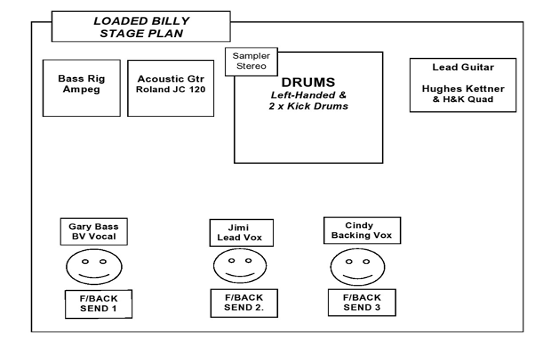 Band Member
Instrument
Gear we Bring
Gear required

Willi Gutwein

Drums – Left Handed Kit
Tama – 2 x Kicks 2 x 13" & 14" rack toms 1 x 16" floor tom 1 x SLP 8" Snare 1 x Hi-Hat 7 x Cymbals 1 x Roland SPD1 Wave Pad out on a DI 1 x Alesis SR16 Drum machine 1 x Mackie 402XL24 Mixer
If not touring with own kit please supply: Tama or DW shell pack, plus Snare, plus Hi Hat stand, plus 5 cymbal boom stands. When sharing backline on a single kick drum: supply 13" & 14" rack toms on stand, 16" floor tom, 14" SLP snare, Hi-Hat Stand, 5 x cymbal boom stands. SPD1 Pad requires: Out on Std 3pin XLR (Via DI) for FOH Mackie Mixer requires: Std XLR cable for IEM monitor

Gary Standley

Bass Guitar & Backing Vocal

Ampeg Heritage SVT-CL Head Ampeg SVT 810E Cab

If not touring with own bass rig please supply same: Ampeg Heritage SVT-CL Head Ampeg SVT 810E Cab Vocals require: Std SM58 Mic on boom stand Foldback: Minimum 2 floor monitors x 1 send

Ucan Ashtar

Lead Guitars only

1 x Hughes Kettner Matrix 100 amp head 1x Hughes Kettner 4 x12 cab with vintage 30's

If not touring with own amp and box please supply: Hughes Kettner Matrix 100 or H&K Black Spirit 200 amp head 1x Hughes Kettner 4 x 12 speaker cab

James Chamings

Lead Vocals, Acoustic Guitar, Electric Guitar

1 x Roland Jazz Chorus 120 amp 1 x Mesa Boogie 2 x 12 Road King speaker cab.

If not touring

with own amp and box please supply same or equivalent: 1 x Roland Jazz Chorus 120 amp or Fender Tone Master Twin reverb plus 1 x Mesa Boogie 2 x 12 Road King speaker cab or Orange PPC212 Cabinet. Vocals Require: Std SM58 Mic on boom stand Foldback: Minimum 2 floor monitors x 1 send

Cindy Brown

Backing Vocals Only

No Instrument

Vocals

Require: Std SM58 Mic on boom stand Foldback: Minimum 2 floor monitors x 1 send

Contacts
Email: loudtoys@bigpond.com www.loadedbilly.com www.facebook.com/Loaded-Billy-204700189562323 https://www.instagram.com/loaded_billy/ https://www.youtube.com/channel/UCHRi2bQnYvhog2sOJJAfA-g Bandcamp link – to be provided Digital links – Spotify – Apple Music etc etc to be provided

LOADED BILLY is complete!